Need for Boeing 787 Pilot Training Courses on the Rise
As production of Boeing 787 aircraft increases, so does the need for pilot training. Currently, 992 aircraft have been delivered to over 30 airlines, with another 512 aircraft on order. Avsoft has recently released a Boeing B787-8 Aircraft Systems course to address the pilot training needs of airlines and ATOs.
Boeing 787 Dreamline Provides Significant Improvements Over Other Large Aircrafts
After its Sonic Cruiser project stalled in 2002, Boeing pivoted to their 7E7 product, which leveraged the Sonic Cruiser technology in a configuration that more closely met the changing needs of airlines. After the September 11th terrorist attacks, oil prices rose considerably, forcing many airlines to prioritize efficiency over speed. Boeing's 7E7 (the airline manufacturer eventually stated the "E" stood for "eight") was designed to address these concerns.
In 2004, Japan's All Nippon Airways (ANA) became the first airline to order the new 787 aircraft. Boeing selected two different engines to use with the aircraft – the General Electric GEnx and the Rolls-Royce Trent 1000 – due to their fuel efficiency. Between the increased efficiency of the engines, aerodynamic design improvements and the use of lighter weight composite materials, Boeing was able to make the 787 20% more fuel efficient than its predecessor, the 767.
In addition to improved fuel efficiency, which allows the aircraft to shift from a hub-and-spoke travel model to a point-to-point travel model, the 787 provided several other important benefits compared with other large aircraft on the market:
Lower cabin pressure
Better air filtration
Higher humidity
Improved passenger comfort
Over the past decade, a growing number of airlines have begun purchasing 787 aircraft, and this has resulted in an increased need for pilot training materials.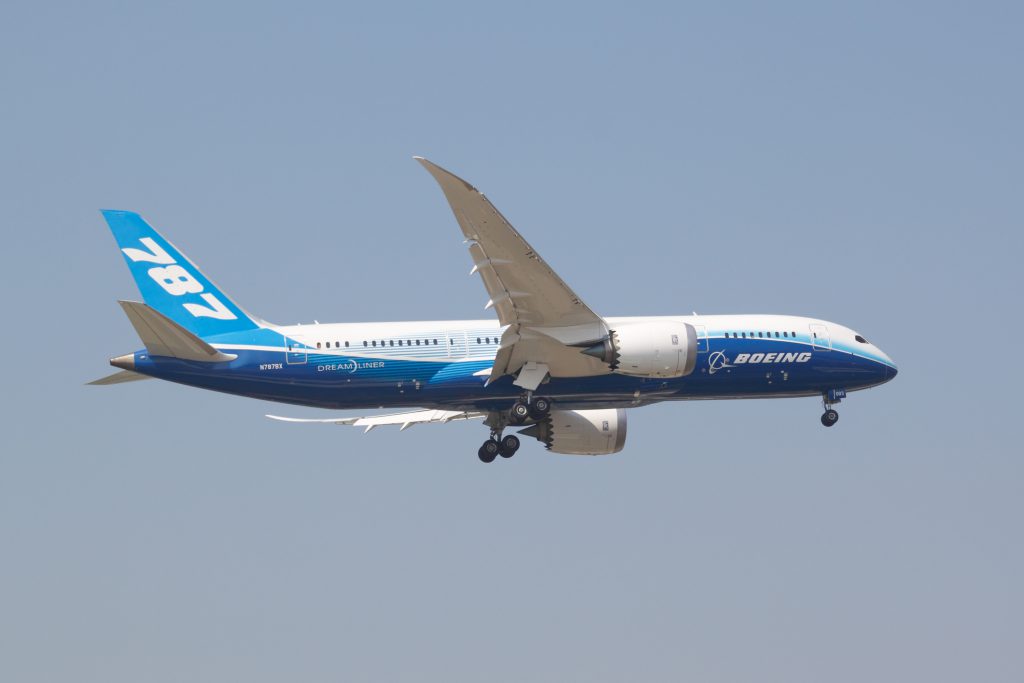 Boeing 787-8 Pilot Training Requirements
The Federal Aviation Administration (FAA) has stated that pilots undergoing initial 787 training should have previous operational experience with:
Multi-engine transport turbojet aircraft
New generation avionics
High altitude operations
Head-Up Display (HUD)
Electronic checklist (ECL)
Flight management systems (FMS)
You may need to undergo additional training if you lack experience in any of these areas prior to beginning your 787 pilot training. In addition, pilots must complete a special emphasis on the following areas during their initial ground training:
ECL and QRH backup for ECL
Electronic Flight Bag (EFB)
HUD
Tuning control panel (TCP)
Display management
Engine variants (General Electric or Rolls-Royce)
During flight training, pilots are required to undergo special emphasis on and perform the following areas:
Flight control modes (initial and recurrent training)
Envelope protection (initial training)
Fly-by-wire speed stability characteristics and aircraft trimming (initial training)
Automatic landings (initial and recurrent training – only applicable if the pilot performs automatic landings in the 787)
Avsoft's online pilot training modules can address all of these requirements. You can view a full list of our pilot training courses to learn more.
Avsoft's Boeing B787-8 Course Addresses Your Pilot Training Needs
Avsoft's B787-8 Aircraft Systems course addresses the training requirements of all aviation regulatory authorities. The course contains 24 modules covering all major aircraft systems as well as both 787 engine types. Each module covers all components, controls, operations and indications involved in the applicable system.
Interactive features provide a more visual learning experience than typical aircraft training manuals. The course contains nearly 2,000 pages and more than 3,500 detailed color technical illustrations to ensure comprehensive coverage of the B787's complex systems and operations. In total, the course provides approximately 28 hours of instruction.
There is a test at the end of each module, and a certificate is generated upon successful completion of all tests. Airlines and ATOs can also edit test questions and create a final exam.
Additional benefits of Avsoft's B787-8 online training course include:
Suitable for Type Rating Initial or Recurrent ground school theory training
SCORM compliant and can be delivered on any LMS (airlines and ATOs can add the course to their existing collection of courses and run it on their current LMS)
Available online or offline using an iPad via the Portable Classroom (when delivered through Avsoft's proprietary LMS)
Can be bundled with UPRT, PBN-RNP, LVO for Type Rating and other general subjects for Recurrent training
Request a Demo
Avsoft provides full demo access of the B787-8 course to airlines and ATOs. Please request a demo to learn more about the course.