Portable Classroom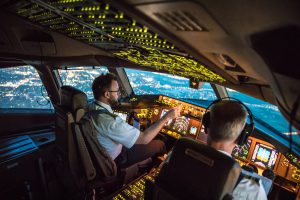 Commercial pilots must complete a lengthy process in order to operate an aircraft:
Earn a Commercial Pilot License (CPL) from a flight training school
Earn an Airline Transport Pilot License (ATPL) certificate or an Airline Transport Pilot (ATP) certificate
Complete a type rating certification from a flight school or Approved Training Organization (ATO)
In addition, pilots are required to complete recurrent training after receiving their initial type rating certification. In the United States, this recurrent training must be completed once a year. In Europe, it must be completed every six months. The initial and recurrent pilot training must cover aircraft systems as well as general subjects training.
Online pilot training, commonly referred to as eLearning or computer-based training (CBT), provides a versatile and effective way for pilots to maintain the certifications required to operate their aircraft. CBT programs deliver the course content through a digital device such as a computer, smartphone or tablet, allowing pilots and training managers to access the training materials from any location. This eliminates many of the costs and hassles associated with the ground school model, including:
A physical classroom space and associated training materials
Travel costs to the on-site ground school
Lodging accommodations throughout the training
Instructor fees
Local transportation costs
Planning, scheduling and logistical issues
While online pilot training offers many important benefits, it is often limited by the ability to maintain strong Internet connectivity. When connectivity issues occur, it can become challenging to access training materials and complete important coursework in a timely manner. Avsoft's Portable Classroom system provides an important workaround to this issue, ensuring your pilots and training managers can access eLearning course content even when Internet connectivity is poor.